Please make sure the following requirements are met:
Step 1
Visit your CyberGhost VPN online account and login with your Premium Username and Password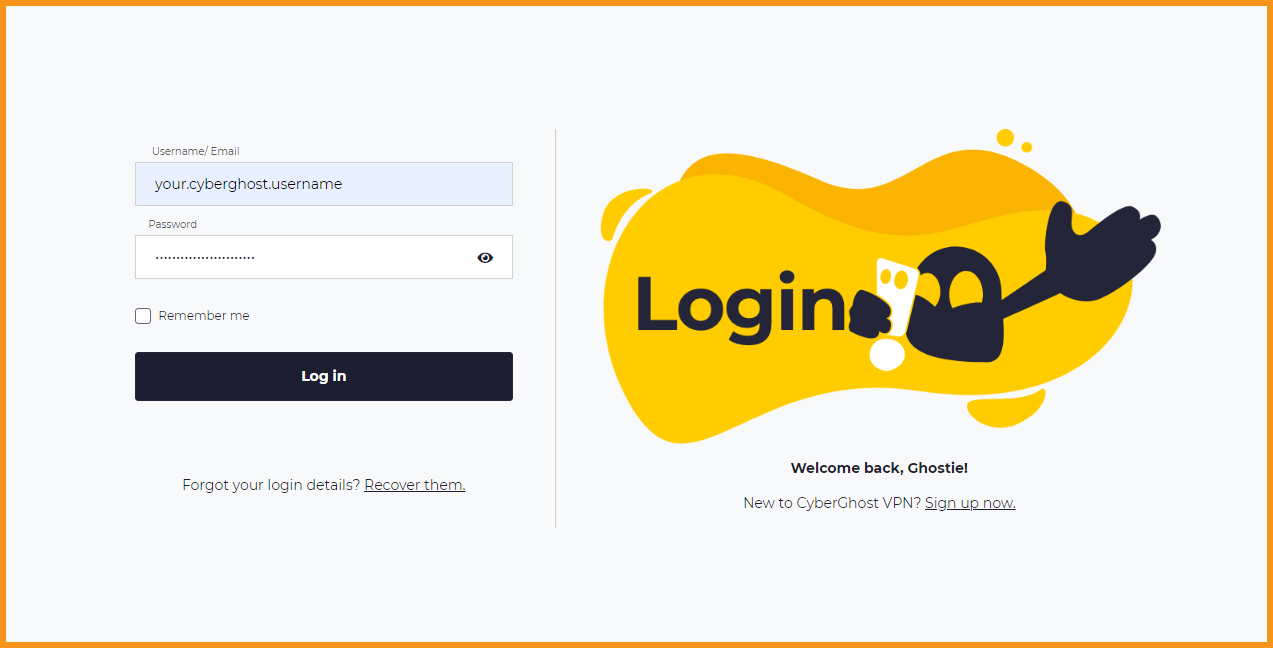 Click on 'My Devices' and in the 'Add a new device' section > click 'Others'.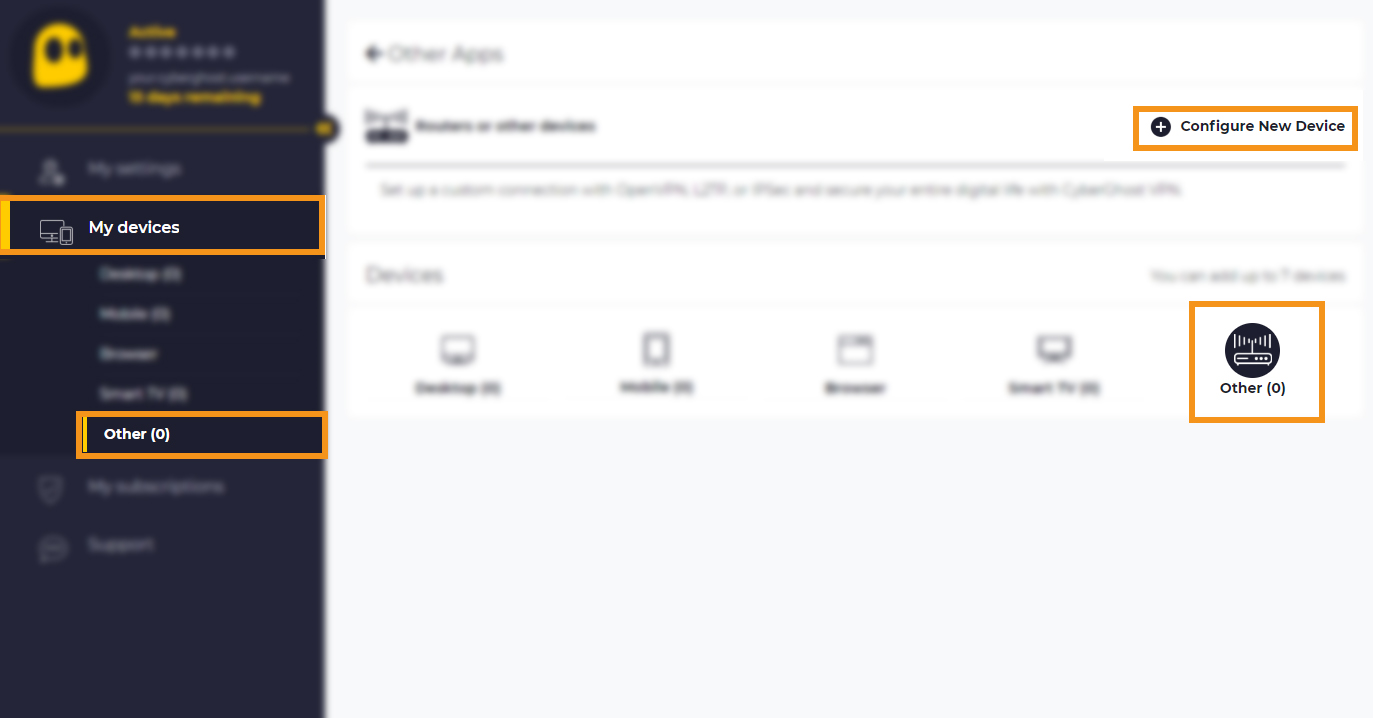 At the new screen, in the 'Server configuration' tab, the desired parameters can be configured. For the purpose of setting PPTP for your device, choose 'PPTP' from the Protocol drop down menu. Your desired country and server group, as described below, need to be defined too:
Also type in a Device name to assign to your device, then configure the parameters for the new device.
Protocol: please choose

PPTP

Country: Since native protocol connections may only be used with exactly one server you now have to choose the country you want to surf from; the server to be used in this country will be chosen by CyberGhost automatically.
Server group: Choose the server group and the OpenVPN protocol (UDP or TCP) you want to use:
UDP allows higher speed than the TCP version, but can result in broken downloads in some cases. This is the default setting.
TCP allows more stable connections than the UDP version, but is a bit slower. Choose this version, if you have recurrent connection issues such as sudden disconnections.
After setting up your preferred settings, save them with 'Save and download configuration'.
Access the configuration data for the PPTP protocol. FYI: The Point To Point Tunneling Protocol is widely available and uses PAP/CHAP for authentication, but because of possible implementation deficits in key management it can't be considered completely safe anymore and should only be used, if none of the alternatives OpenVPN or L2TP is available.
To view the PPTP credentials that are generated for you on the configuration dashboard, press View Configuration.

Once the new page is opened, your connection credentials are generated for you but make note of the following information, you will need them to configure your device.
Please note down the following data sets:
Server group: This is the server address of the country you want to surf from, e.g. '1234-ro.cg-dialup.net'. The address includes encrypted information about your plan, the server group chosen and the domain name; the protocol to be used will be detected automatically when connecting to CyberGhost. If you want to connect to different locations, you need to adjust the target destination according to a different country and note down that 2nd, 3rd, 4th ... address as well.
User name: A solely for protocol usage generated user name. This is NOT your regular CyberGhost account user name.
Password: A solely for protocol usage generated password. This is NOT your regular CyberGhost account password.


Pre-shared key
Please see the credentials that are downloaded for you once you press 'Download configuration'.
Step 2
Create a VPN connection on your Windows PC. For that open the Start Menu, click on 'Settings' and then on 'Network & Internet' ...
Activate the menu entry 'VPN' and then 'Add a VPN Connection'.
Enter the following configuration details:
VPN provider: Windows (integrated)
Connection name: Type a name for your new connection. If you plan to create more connections to different locations make sure, you label each connection thoroughly by adding the country name, eventually the server group and maybe even the protocol, so you can tell one from another, e. g. '

CG RO Premium L2TP

'.
Server name or address: Add the server address you want to connect to, e.g. '

1-ro.cg-dialup.net

'.
VPN type: Choose '

Point-to-Point-Tunneling-Protocol(PPTP)

'.
Type of sign-in info: Choose '

User name and password

'.
User name: Here goes the user name created in step 1. DO NOT use your regular CyberGhost user name.
Password: Here goes the password generated in step 1. DO NOT use your regular CyberGhost password.
A native protocol connection addresses just one single server. If you want to surf from different locations, aka use different servers in different countries, you need to set up as many connections as locations you want (which means you have to do all steps again for each single country). If you want to be able to connect to five different countries, for example, you need to set up five different connections, from which you can choose later on.
Click on 'Save'.
Step 3
Back in your VPN list window scroll down a bit to 'Related Settings' and click on 'Change adapter settings'.
Right click on your connection and choose the entry 'Properties'.
Switch to the tab 'Security'. As 'VPN type' it should say 'Point-to-Point Tunneling Protocol(PPTP)'. If not, please choose it and activate as 'Data Encryption' the setting 'Maximum strength encryption ...', which equals 256 Bit AES.
For media streaming it might be necessary to choose '

Require encryption ...

' (which equals 128 Bit AES) to avoid disruptions, caused by the big load the 'Maximum strength encryption' puts on your CPU.
Furthermore activate the option 'Allow these protocols' and put a mark in the box to 'Microsoft CHAP Version 2'.
Click on 'OK' to leave the dialog.
Step 4
Close the adapter window and back in your VPN list click on the "Connect" button of the connection you want to use.
Alternatively click on the network icon in your System Tray and start a VPN connection from there.
Certain routers need you to activate the L2TP/IPSec protocol in order to establish working connections. How you can accomplish that task should be documented in your router's manual.