Please make sure the following requirements are met:
On Androids below 4 it's a tricky task to get your device to support OpenVPN, for they have to be 'rooted' and 'modded' beforehand. More downsides: A rooted/modded device looses its guarantee and there's always a possibility to damage it. Most users might therefore be better off using the L2TP or IPSec protocol or, if both are not available, the PPTP protocol. L2TP and IPSec as well as PPTP are very easy to configure and also part of every regular subscription.
Please note, that CyberGhost is not to be made responsible for any damage done to the device in order to get root access and neither provides any guarantee nor pays any compensation in case the device malfunctions after rooting/modding it.
Step 1
Visit your CyberGhost VPN online account and login with your Premium Username and Password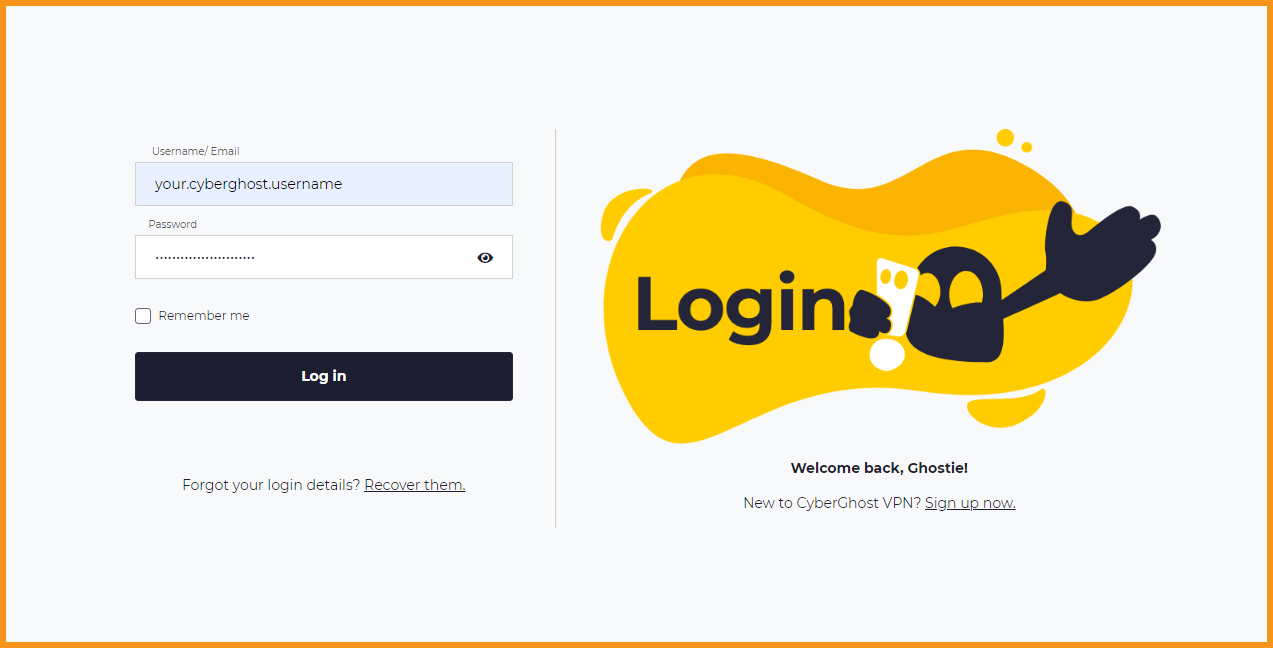 Click on 'My Devices' and in the 'Add a new device' section > click 'Others'.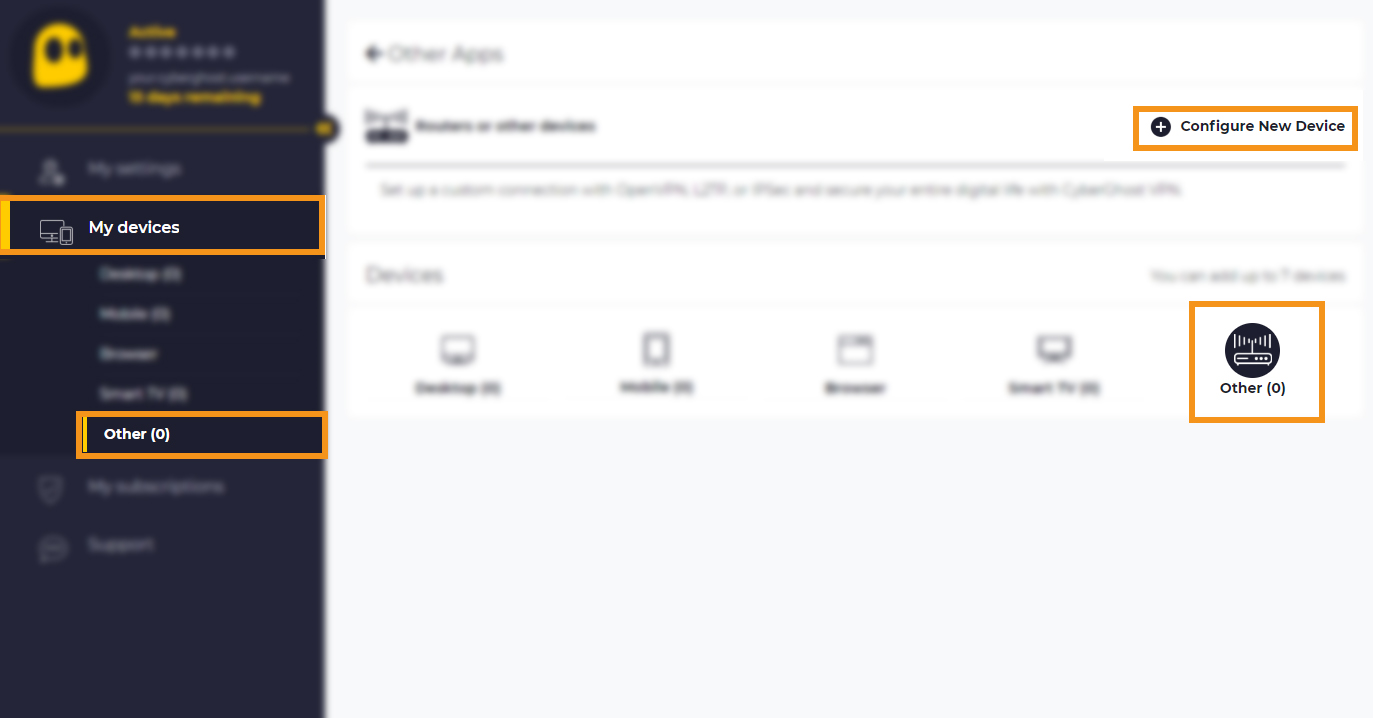 Click Configure new device and in the new window, choose your desired protocol, in our example: OpenVPN and your preferred country and server group, as described below.
Also type in a Device name to assign to your device, then configure the parameters for the new device.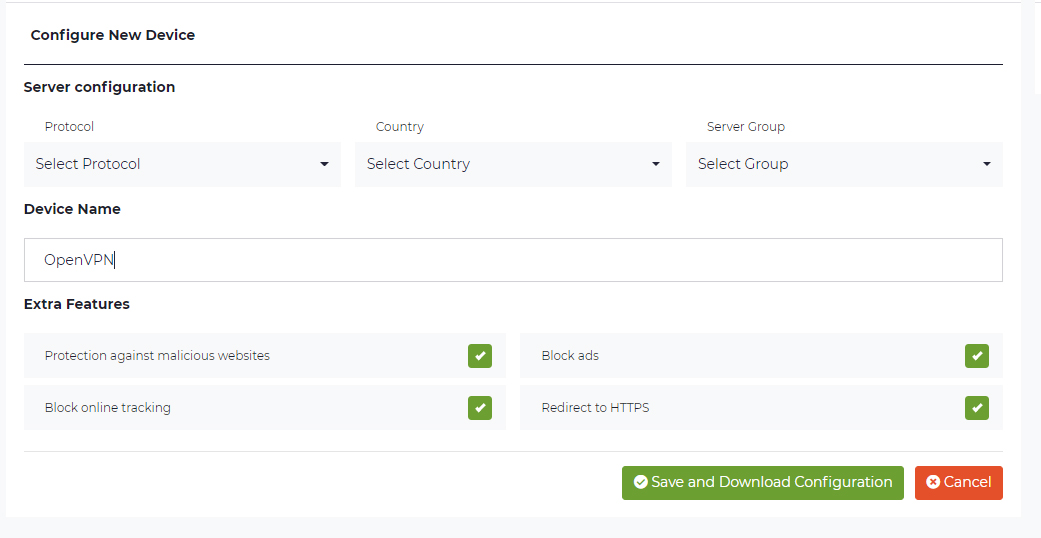 Country: Since native protocol connections may only be used with exactly one server you now have to choose the country you want to surf from; the server to be used in this country will be chosen by CyberGhost automatically.
Server group: Choose the server group and the OpenVPN protocol (UDP or TCP) you want to use:
UDP allows higher speed than the TCP version, but can result in broken downloads in some cases. This is the default setting.
TCP allows more stable connections than the UDP version, but is a bit slower. Choose this version, if you have recurrent connection issues such as sudden disconnections.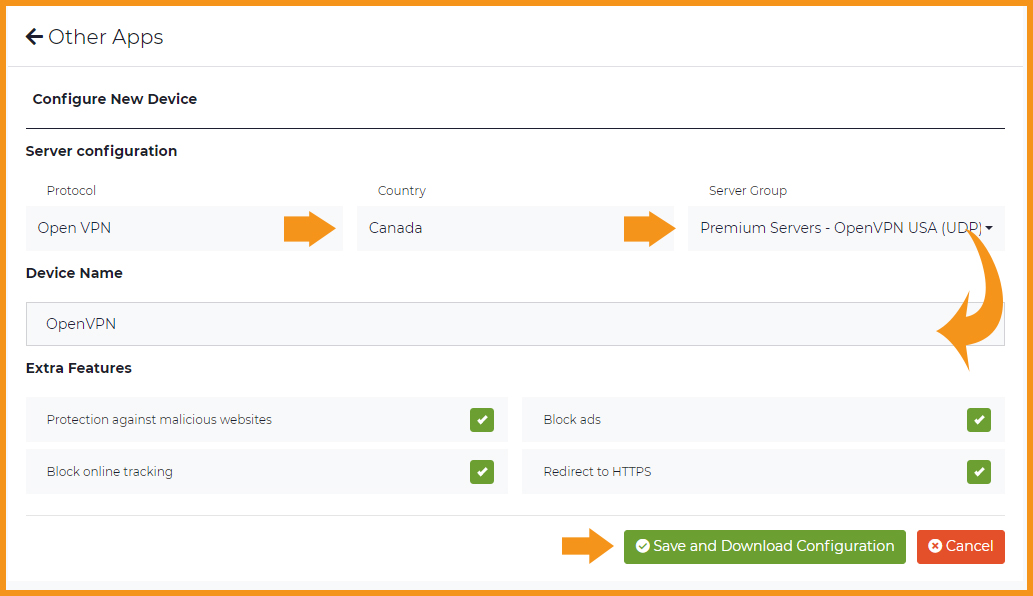 After setting up your preferred settings, save them with 'Save and download configuration'.
To view the OpenVPN credentials that are generated for you on the configuration dashboard, press 'View Configuration'.

Once the new page is opened, your connection credentials are generated for you but make note of the following information:
Server group: This is the address of the country (server) you want to be connected with, e.g. '12345-1-ca.cg-dialup.net'. Note: This address changes with every country you have chosen in the step before. The actual single server to be used will be chosen automatically by CyberGhost.
User name: A solely for this protocol generated user name. This is NOT your regular CyberGhost account user name, it's used only to authenticate with our servers via Manual Configurations.
Password (you need to check the "Show Password" option in order to see it): A solely for protocol usage generated password. This is NOT your regular CyberGhost account Password, it's used only to authenticate with our servers via Manual Configurations.
Pre-Shared Key
Please download the configuration file. For that please click on 'Download configuration' and download the config file to your computer (it's recommended that you create a special folder for the config, somewhere accessible like your Desktop and Extract/Copy the contents of the .zip file there).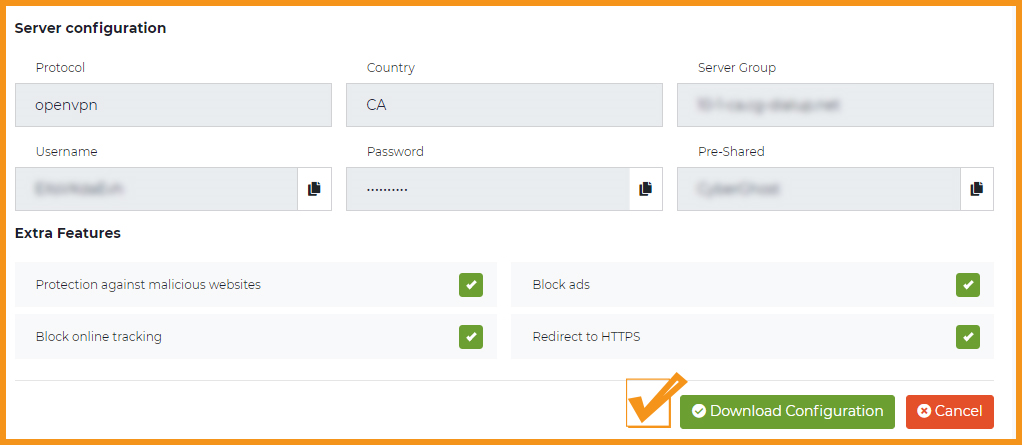 Now, the saved config is a ZIP file, which contains the following single files:
ca.crt: This is the certificate of the certification authority

client.crt: This is the user certification file
client.key: This is your private key file
openvpn.ovpn: This is your OpenVPN configuration file
In case you downloaded the file to your device and don't have a file tool on your Smartphone or Tablet to unzip the archive, download the file to your PC instead and unzip it there before copying the containing single files to your device. Also, if you have problems copying files to your device, send yourself an email with all files attached and save them on your SD card or your device memory.
If you want to surf from different countries, rename the unzipped OpenVPN configuration file from 'openvpn.ovpn' to e.g. 'CG_RO_NoSpy.ovpn' (or whatever location/server group combination you have chosen while setting up the configuration file in your account management).

Choose then a different location and a different server group (if available) and download the next zipped configuration file. Unzip it, rename the containing 'OpenVPN.ovpn' as well and copy it inside the folder with the other configuration files already downloaded. The remaining certificate and key files do not need to be copied again, for you already have them from the first download.

For two different countries you need for example do the following steps:

Specify device, protocol and operating system

Choose a country, e.g. USA

Download the zipped configuration file with certificates, key and OpenVPN configuration file

Unzip the downloaded file and copy all files into a new 'CyberGhost' or 'OpenVPN' folder

Rename the OpenVPN configuration file from 'openvpn.ovpn' to 'CG_USA.ovpn'. (If you need to address a single server instead a country in general, you are to edit the OVPN file and exchange the pre-configured server address line.

Choose the next country, e.g. Romania

Download the next zipped configuration file

Unzip the downloaded file and copy just the file 'openvpn.ovpn' into the folder with the other configuration files

Rename it to 'CG_RO.ovpn'.

etc. ...

The folder now consists of the following files (regarding the example above):

ca.crt

client.crt

client.key

CG_USA.ovpn

CG_RO.ovpn

xxx.ovpn
Step 2
After modding your device it might be, that OpenVPN is already pre-installed. To make sure, please check the folder '/system/bin/openvpn' or '/system/xbin/openvpn' for the appropriate binary.
If OpenVPN is not pre-installed, you need to:
Download and install the app 'BusyBox' from the Android Market. It's recommended to allow automatic updates. Also have an eye on the installation folder: If BusyBox is not installed to '/system/xbin' it might not work properly.

Download and install the apps 'OpenVPN installer' and 'OpenVPN settings' from the Android Market.

Create a folder called 'openvpn' on your SD card. Please note, that Android is case-sensitive. The resulting path should be '/sdcard/openvpn'.
Step 3
After installation is done, copy the CyberGhost VPN configuration file(s) you downloaded from your account, into the 'openvpn' folder on your device's SD card.
Now start 'OpenVPN Settings' and enable 'OpenVPN'. You will be asked to enter your credentials which consist of 1) the user name created in step 1, and 2) the password, also created in step 1. DO NOT use your regular CyberGhost user name and password, which you use to login in the client and your account management!
Please note: Depending on the Android kernel, your device might run with a different TUN driver (the file name is 'tun.ko'). If OpenVPN connects to the VPN, but remains unusable, try activating the option 'Load tun kernel module' in 'OpenVPN Settings'. This will load the driver before OpenVPN.
Important!

Again: Modding and rooting an Android devices is nothing you do between a coffee and a snack. You need to have some solid background knowledge you won't find here, for it's not ours to give you instructions for modding your device. You can loose your device's guarantee and might destroy it. So, if you need to find out, how to mod, please consult the respective boards, which can be found after a short Google search.