The CyberGhost app for iOS provides the functionality of a fully featured VPN for your Apple iOS device with all its advantages, such as anonymization, IP change, streaming, safe transactions, and more.
It can be downloaded from Apple's iTunes Store and used for free without limitation for 7 days, after deciding for a subscription type. After 7 days the chosen subscription sets in automatically, unless it has been cancelled beforehand.
Installation
The minimum system requirement for the operation of CyberGhost 7 for iOS are:
Apple operating system iOS 9.3 and higher

iPhone, iWatch, iPad, iPad Pro, iPod touch

After expiration of the trial period, a CyberGhost subscription is required

Make sure your Apple device runs the latest stable operating system version and visit the iTunes Store to download your copy of CyberGhost VPN for iOS, either directly to your device or on your iTunes software for later synchronization. CyberGhost requires access to VPN and push notifications. iOS will ask users to confirm access in order to be able to establish secure connections.
Starting the app
You start the CyberGhost app via its corresponding icon. Right after your first start the CyberGhost app will ask you for allowance to launch VPN connections as a necessary step for the app to function properly.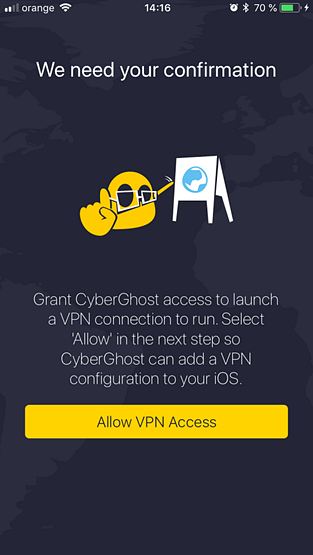 Please tap on 'Allow VPN Access' to proceed. An iOS message will pop up, referring to the nature of all VPN services (that is being a network and being potential dangerous to your data). Please note that iOS needs to ask you this and to warn you about possible implications.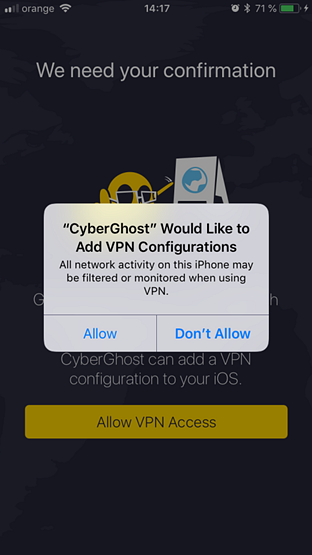 Please tap on 'Allow'.
CyberGhost also would like to send push notifications for a better device protection, e. g. when automatically detecting an open Wi-Fi network to instantly establish a VPN tunnel. Again, please allow CyberGhost to act accordingly and tap on 'Enable notifications'.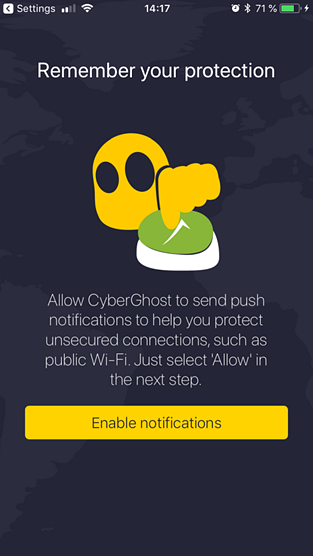 CyberGhost DOES NOT spy on your traffic and/or analyze any individual data. Instead CyberGhost offers a unique and strict No-Logs policy, which keeps your data private, no matter which server you use or in which country a server is located. The required rights to add VPN configurations and send notifications solely serve basic CyberGhost functions and in no way mean any harm to your device or your data.