A single finger tap on the bar symbol opens the app menu with the following options: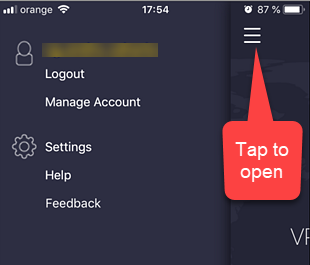 Your user/account name: Shows the current active account name.
Recover purchases (iOS subscribers only): Activates a subscription recreation procedure in case you are accidentally logged out, handled by Apple. Note: If you have a regular CyberGhost subscription and therefor have an account that requires you to log-in with a user name and a password, this option is not available.
Log-out/Log-in/Change account (regular subscribers only): Here you log out from the current active account, resp. log in again with the same or a different account. This entry is only available for subscribers with regular CyberGhost subscriptions.

Manage Account (regular subscribers only): Loads the online account management page into your default browser. Account management might be necessary to e. g. activate or deactivate a device slot.

Settings: Opens the app settings.
FAQ/Help: Loads the CyberGhost support page

into your default browser.

Feedback: Report a problem to our support team and/or tell us your opinion about the CyberGhost app for iOS! Every kind of feedback helps to improve and we are eager to hear your thoughts!
Settings
The app settings page contains information on your plan and allows to activate/deactivate the automatic Wi-Fi protection.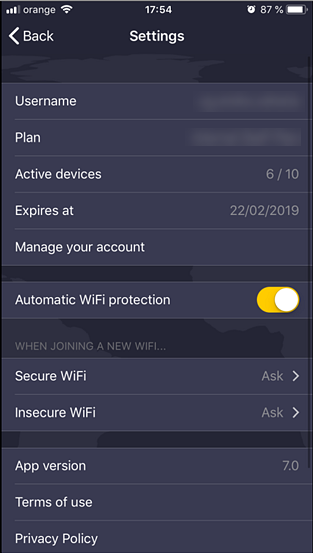 Username: Your account name.
Plan: Your type of subscription (e. g. yearly, monthly).
Active devices: Amount of active devices. Depending on your subscription you can use your plan with different amounts of devices at the same time.

Expires at: The date your current subscription runs out.
Automatic WiFi protection: Activates or deactivates the automatic VPN protection when entering a new network (see below).
App version, Terms of use, privacy policy, Imprint, Subscription information: Legal and internal information

.
Wi-Fi settings
The Wi-Fi settings can be set separately for password protected Wi-Fi networks ('Secure Wi-Fi') and free access Wi-Fi networks ('Open Wi-Fi'). To define the way Wi-Fi networks should be treated at availability, tap on this entry and choose one of the following actions:
Ask: Every time your device connects to a secure/open Wi-Fi network, CyberGhost asks you if you want to be protected.

Always connect: Every time your device connects to a secure/open Wi-Fi network, CyberGhost automatically starts a VPN connection.
Terminate connection: If you already have a VPN connection running and you enter a secure/open Wi-Fi network, CyberGhost will disable the VPN connection.
Never protect: By choosing this option, CyberGhost will ignore the current secure/open Wi-Fi network

.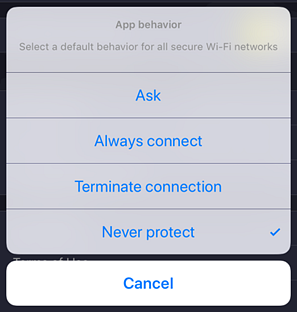 Known Wi-Fi networks: Since CyberGhost remembers networks and the reaction wanted on any particular network you can manage here all known networks, such as assigning a different reaction to a specific one.
In the section 'Settings > Connection' you will find the Connection Checker tool. It will help you determine whether or not you have a proper working Internet connection and are ready for a VPN. By simply tapping on 'Run test' the tool will analyze the reachability of your device as well as the Internet connection and the passage to the CyberGhost network.