Any country or server can be set as a favorite for faster access.
Add a country to Favorites
To add a complete country to your list of favorites, first tap in the main screen on the downward showing arrow next to 'Connect to' and the current default mode: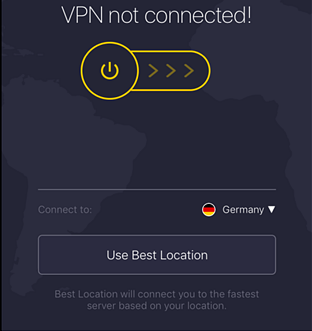 Now, in the country list, make sure that the menu highlights the entry 'All'.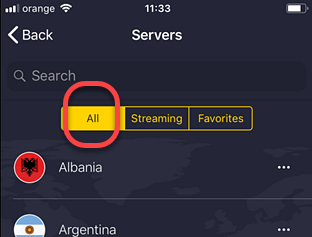 Tap on the country. The next screen shows you internal information on the respective country, such as the number of servers available, the total amount of users connected to all servers of that country and the average server load.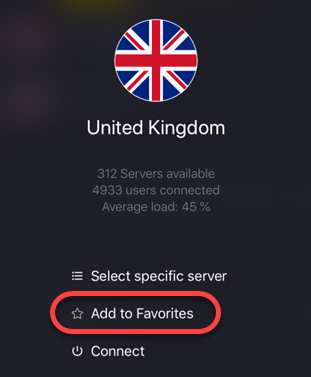 Tap on 'Add to Favorites'.
Add a single server to Favorites
Do as above, but instead of tapping at 'Add to favorites' please tap on 'Select specific server'. In the next screen scroll through the list of all available servers, tap on the three dots (to open the server menu).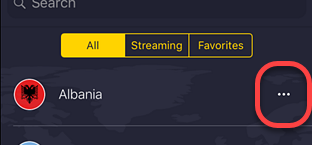 In the next window scroll through the list of available servers and mark one by tapping on the star displayed at the right side of the respective entry.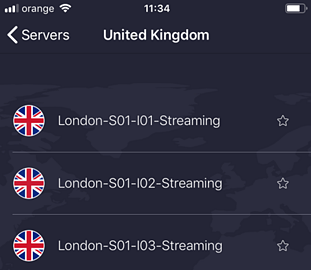 Add a streaming connection to Favorites
If you are after a streaming-optimized connection, first activate the 'Streaming' section:
Proceed in the same manner as adding a regular country, resp. a single server.
List of favorites
After activating the 'Favorites' section you will find your set favorites categorized by three types of entries:
General: Here you find all entire countries marked as favorite.
Streaming Optimized: Here you find all favorited streaming connections.
Servers: Here you find single servers marked as favorites.