Using 'Favorites' is pretty much the equivalent of using short-cuts, which they literally are, since any favorite will establish its inherent connection with a simple finger tip.
Add a country to Favorites
In the main screen tap on the connection description between 'Connect to' and the little downwards showing arrow: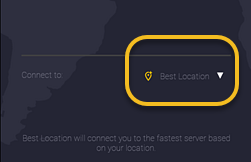 Now, in the country list, make sure that the menu highlights the entry 'All countries'.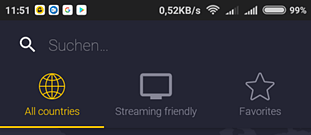 Tap on the country of interest on the three dots right handed of the resp. entry line.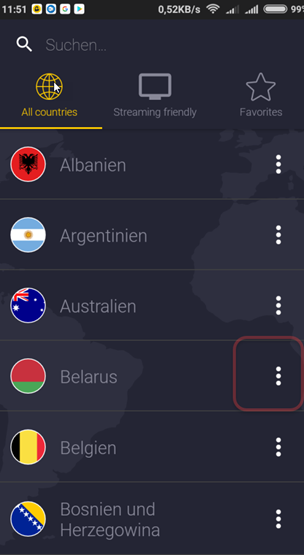 The next screen shows you internal information on the respective country, such as the number of servers available, the total amount of users connected to all servers of that country and the average server load.
To add this country to your list of favorites simply tap on the resp. menu entry.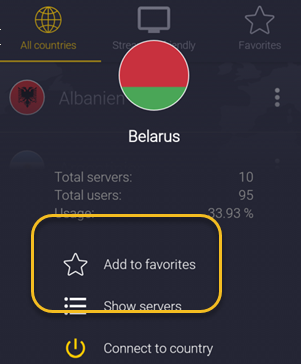 Add a single server to Favorites
Do as above, but instead of tapping at 'Add to favorites' please tap on 'Show servers'.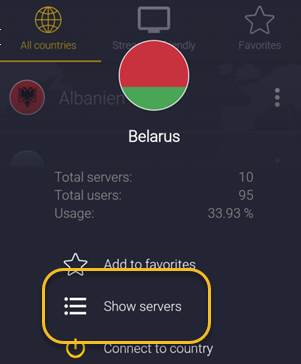 In the next screen scroll through the list of all available servers, tap on the three dots (to open the server menu) and add the respective single server to your list of favorites.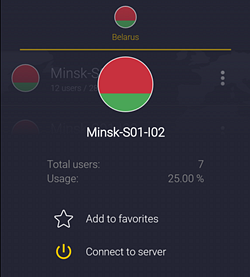 Add a streaming connection to Favorites
If you are after a streaming-optimized connection activate the 'Streaming friendly' section and then proceed in the same manner as adding a regular country by tapping on the three dots in the entry line of the respective country and then on the 'Add ...' menu entry.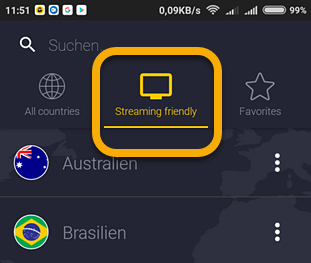 Note: Single streaming servers can't be added as favorites, only countries. This is because CyberGhost offers a unique solution to unblock streams that takes place on different individual servers, which changes on a steady base. If you actually want a single streaming server to be stored as a favorite you need to search for one among all single servers of a country (usually marked with a 'streaming' addendum in the name), but please be aware, that a single streaming server might only work temporarily for your streaming platform.
List of favorites
After activating the 'Favorites' section you will find your set favorites categorized by three types of entries:
General: Here you find all entire countries marked as favorite.
Streaming Optimized: Here you find all streaming servers saved to Favorites.
Servers: Here you find single servers marked as favorites.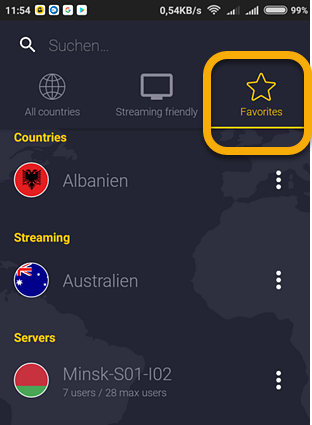 Use a favorite
To use one of your favorites simply tap in the main screen on the connection description between 'Connect to' and the little downwards showing arrow. After that switch to your favorite list and go for the connection wanted.
By tapping on the three dots you reach the menu for the respective entry with some info and a possibility to delete a favorite.