Directly after a new installation CyberGhost 7 for Fire OS starts with the Log-in screen: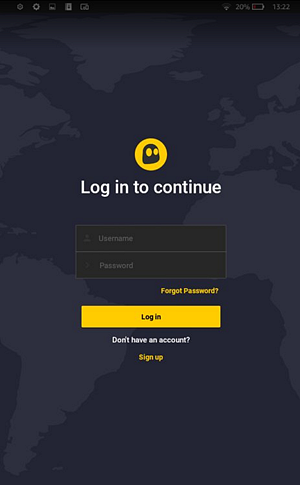 Whether or not you are an existing CyberGhost user, please continue as follows:
I am new to CyberGhost: If CyberGhost is new to you, if you don't have a CyberGhost account yet, or if you want to create a new account, this is the place to go.
I already have a CyberGhost subscription from Amazon: If you purchased a CyberGhost subscription from Amazon's app shop in the past, please check here how to proceed.
I already have a regular CyberGhost subscription: If you own a regular CyberGhost subscription, as can be obtained directly from the CyberGhost website, please read this passage on how to activate your subscription on a Fire device.
If you are new to CyberGhost, the app offers you a cost free trial, including all features and the full functionality of the infrastructure, no limitations set.
To start the trial, please tap on 'Sign up' and register for a new account.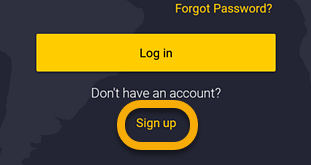 An account is necessary to use the CyberGhost service and can be created anonymously. Just enter a valid email address, type in a password twice and accept the CyberGhost privacy policies and terms and conditions.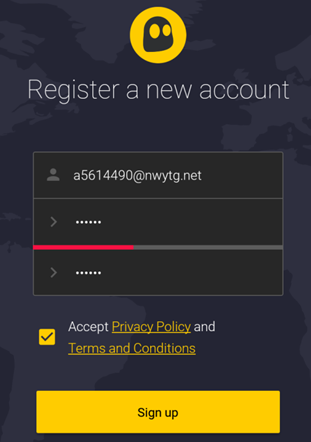 Please note that you need to confirm the email address given to receive the full trial time.
After confirming the link in the email sent to you, the CyberGhost app welcomes you and activates all features for a limited time. To begin tap on 'Start your trial'.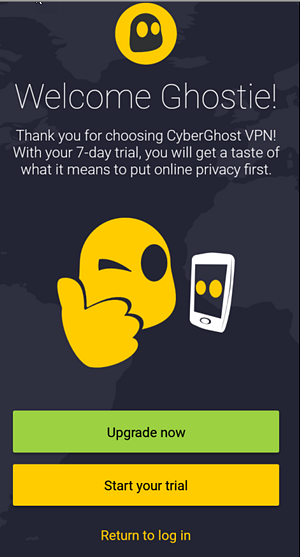 CyberGhost will switch instantly to the main screen, where you can power up your first VPN connection.
I already own a CyberGhost FireOS-only subscription
Please make sure your device is connected to the same Amazon account used when purchasing a FireOS-only subscription for CyberGhost. This is important, because Amazon can't share subscriptions between different Amazon accounts.
If the account fits, start the CyberGhost app and log-in with the credentials made, when initially signing up for CyberGhost, that is, your user name and password.
Please note that an FireOS-only subsciption is good for up to 7 different devices, as long as they are running under the same Amazon account.
I already own a regular CyberGhost subscription
In case you already have a regular CyberGhost multi platform subscription, please enter your credentials (user name and password) and tap on 'Log in'.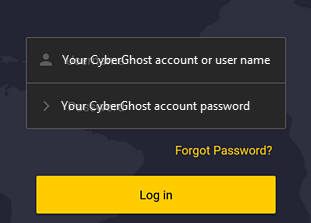 Possible log-in problems, if trying to use a regular CyberGhost subscription:
Lost your password? Please tap on 'Forgot password' and continue with one of the following actions:


Recover your account by entering your fallback email address entered in your CyberGhost account management page.
If you don't have that address any more, recover your account by entering your PUK (you got it when generating your CyberGhost account) or the cleverbridge reference number of your purchase. For that click on 'I want to recover with PUK or reference number' and enter the data.
If you also forgot or lost your PUK number, please click on 'I have lost my PUK'. Enter the email address you used to purchase AND your cleverbridge reference number. Tap on 'Send' and a recovery mail will be sent to the address entered. Check your mails and use the provided link to reset your account. In case you lost your reference number, you can ask cleverbridge to search it for you. A contact link is provided on the recovery page.
If you haven't bought your subscription via cleverbridge, please click on 'I haven't purchased with cleverbridge' and create a ticket for the CyberGhost support. The team will come back to you on your matter.

Activated too many devices? A log-in failure might also be the result of already having activated the maximum amount of allowed devices. Please visit your account management and check on the current status of registered devices. Regular CyberGhost subscriptions are good for up to seven devices, regardless of the respective operating system, but if all slots are occupied, at least one old device has to be removed, before you can successfully log-in with your Android device.