With a tap on the gear symbol you open the settings menu with following options: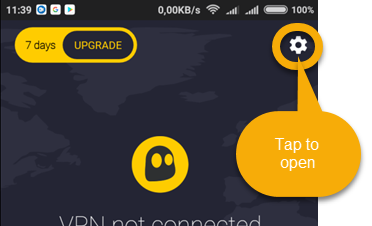 Username: Shows the current active account name, for trial version users it's the mail address used when registering. You can change your user name at any time in your online account management.

Plan: Your type of subscription.
Active devices: Amount of active devices. Depending on your subscription you can use your plan with different numbers of devices at the same time. To remove or add a device, please visit your online account management.

Expires at: The date your current subscription runs out.
Open account management (regular CyberGhost subscriptions only): Loads the online account management page into your default browser. Account management might be necessary to e. g. activate or deactivate a device slot.
Log-out: Here you log out from the current active account. The app switches to the start page, where you can log-in again.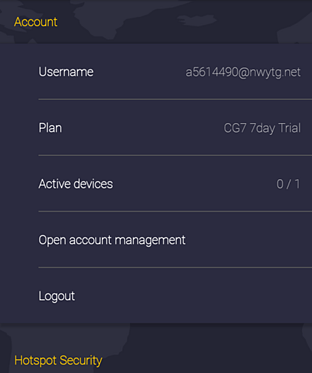 Ad-Block: Improves your Internet experience by filtering annoying ads. Web pages can be loaded faster and read better. Furthermore your online security profits, since malware can easily be distributed through ad networks. On mobile data connections this feature can help saving money (less data to transfer) and battery (less data to process).

Malware protection: Extends your Internet security by detection and blockage of potential dangerous websites. A deactivation can raise surfing speeds.

Data compression: Compresses images and web content. Inside home networks the data compression feature is usually deactivated, for obvious reasons, but if on the road and dependent on mobile connections, one can save money on reducing the amount of data being transferred through compression.
Block social tracking: Prevents monitoring, recording, and analyzing of your surfing behaviors e. g. by social media elements such as the Facebook 'Like' button. A deactivation can raise surfing speeds.
Here you activate a warning each time CyberGhost detects a new Wi-Fi network. If you are concerned about your device's security in public hotspots (which you should), it's recommended to keep this option activated at any time.

Right below the activation button a default CyberGhost action can be set separately for password protected Wi-Fi networks ('Secure Wi-Fi') and free access Wi-Fi networks ('Insecure Wi-Fi').
To define the way Wi-Fi networks should be treated at availability, tap on the resp. entry.
Now choose one of the following actions (all options are available for password-protected networks and open networks alike):
Always ask for protection: Every time your device detects a Wi-Fi network, CyberGhost asks you if you want to be protected.

Always protect automatically: Every time your device detects a Wi-Fi network, CyberGhost automatically starts a VPN connection.
Disable protection: If you already have a VPN connection running and you enter a (different) Wi-Fi network, CyberGhost will disable the VPN connection.
Ignore: By choosing this option, CyberGhost will ignore any Wi-Fi network.
Known Wi-Fi networks: Since CyberGhost remembers networks and the reaction wanted on any particular network you can manage here all known networks, such as assigning a different reaction to a specific one, by simply tapping on 'More'.
Now search for a specific network and re-assign any of the options mentioned above.
Use random port to connect: This option allows CyberGhost to establish connections through randomly chosen ports (which will be changed with each new connection), instead of a fixed port (which makes it easy for providers to slow down or block CyberGhost connections). In case your provider or network admin (such as in Hotels or Airports) doesn't allow VPN traffic, the activation of this option might help to successfully connect to the CyberGhost network, because usually only a few ports are blocked.
Contact support: Report a problem to our support team and/or tell us your opinion about the CyberGhost app! Every kind of feedback helps to improve and we are eager to hear your thoughts!
Help: Loads the CyberGhost support page into your default browser.
Market: Displays the market you bought your subscription from.
App version, Terms of use, privacy policy, Imprint: Legal and internal information.