Directly after a new installation CyberGhost 7 for iOS starts with the welcome screen: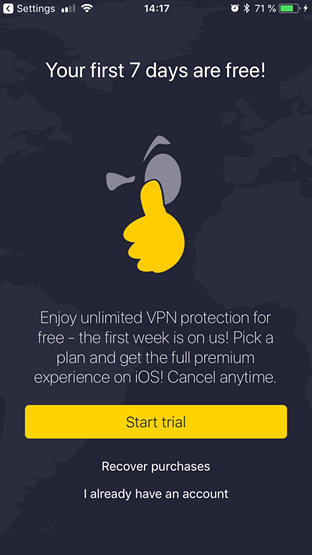 Depending on whether you already own a CyberGhost iOS subscription from the App Store, are a regular user of the CyberGhost desktop apps, or want to become a new CyberGhost user, please tap on one of the following three options:
Start trial: New users are welcomed with a 7 days trial. [More details]
Recover purchases: Existing CyberGhost users with a subscription purchased with Apple's App Store can be logged in automatically by just pressing 'Recover purchases'. [More details]
I already have an account: Existing CyberGhost users with regular subscriptions can log-in with their user names and passwords. [More details]
CyberGhost offers you a cost free 7 days trial, including all features and the full functionality of our infrastructure, no limitations set.
To start the trial, please tap on 'Start trial' and pick a plan that suits your needs the best. This plan will be started automatically after the end of the cost free trial period, unless you cancelled beforehand at any given time.
Please note that you need to purchase a plan of your choice to start the trial. However, the trial will continue the full course, whether you cancel your chosen subscription or not.
In case you already have a CyberGhost subscription for iOS only and either
got logged out by accident,
reinstalled your CyberGhost app,
want to use your subscription on a different iOS device,
tap on 'Recover purchases'. Apple will check on your subscription and (re)activate it immediately for you. CyberGhost iOS-only subscriptions are good for up to five devices running under the same Apple ID.
Log-in trouble? If the recovery process fails, please make sure you are logged into the same Apple account you used when purchasing your CyberGhost iOS-only subscription (because Apple can't share subscriptions between different accounts) and you don't exceed the 5 devices limitation.
Regular CyberGhost subscribers
In case you already have a regular CyberGhost subscription please tap on 'I already have an account'.
Have your credentials at hand, type in your user name and password and log-in.
Log-in trouble? In case of a log-in failure please check the following:
Lost your password?

Please visit your account management with a browser and click/tap on 'I forgot my password'. Enter your account email address or the fallback email address entered in your CyberGhost account management and click on 'Recover my account'. A recovery mail will be sent to this address. Check your mails and use the provided link to reset your account.
If your email address isn't valid anymore, click on 'I want to recover with PUK or reference number' and enter your PUK (you got it when generating your CyberGhost account) to reset your account.
If you also forgot or lost your PUK, click on 'I lost my PUK'. Enter the Cleverbridge reference number, which you can find in the order confirmation email, and the e-mail address you used for your initial purchase.

Activated too many devices? A log-in failure might also be the result of already having activated the maximum amount of allowed devices. Please visit your account management and check on the current status of registered devices. Regular CyberGhost subscriptions are good for up to seven devices, regardless of the respective operating system, but if all slots are occupied, at least one old device has to be removed, before you can successfully log-in with your iOS device. (Here you find more details on how to manage your devices.)