A single finger tap on the gear symbol opens the settings menu with different options, among them the area 'Connection features':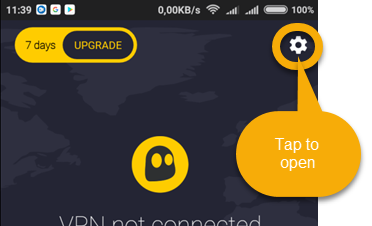 Ad-Block: Improves your Internet experience by filtering annoying ads. Web pages can be loaded faster and read better. Furthermore your online security profits a lot, since malware often also got distributed by ad networks. On mobile data connections this feature can help saving money (less data to transfer) and battery (less data to process).

Malware protection: Extends your Internet security by detection and blockage of potential dangerous websites. A deactivation can raise surfing speeds.

Data compression: Compresses images and web content. Inside home networks the data compression feature is usually deactivated, for obvious reasons, but if on the road and dependent on mobile connections, one can save money on reducing the amount of data through compression.
Block social tracking: Prevents monitoring, recording, and analyzing of your surfing behaviors. A deactivation can raise surfing speeds.