The CyberGhost app for Android provides the functionality of a fully featured VPN for your Android device with all its advantages, such as anonymization, IP change, streaming, safe transactions, and so much more.
You can download the CyberGhost Android app from Google's Play Store and use it some time for free without any limitations as a trial version after creating an account with a valid email address. Once the trial period is over, a subscription is mandatory to further use the service.
Installation
You need a Smartphone or Tablet PC with at least Android 4.4 to use the CyberGhost for Android app.
Older systems below Android 4.4 are not supported by the CyberGhost client app. If you want to use your CyberGhost subscription with such a system, you need to configure a native protocol. For this please make sure you have a regular CyberGhost subscription, because Play Store subscriptions don't include support of native protocols. Instructions on how to set up a native protocol with Android can be found here.
Open Google Play Store on your Android device, search for 'CyberGhost' and tap on 'Install'.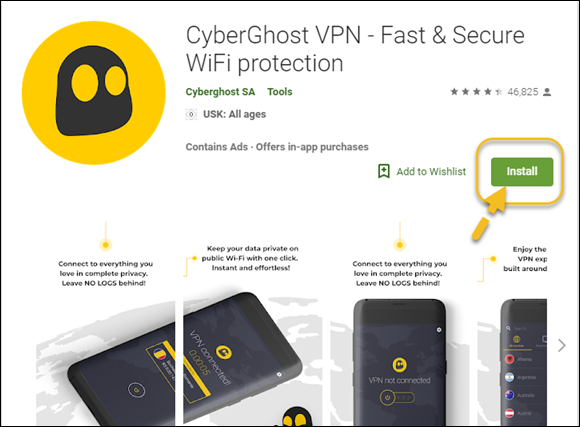 The app will be downloaded and installed.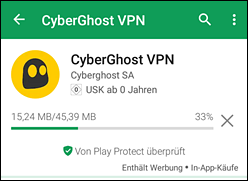 After installation tap on 'Open' to start it from here or move to your app pool to find it there. Usually the start button for the app will also be found on one of your home screens.
When starting for the first time, the CyberGhost app asks for the right to create a VPN connection, which serves basic CyberGhost functions and is essential for the app to work correctly. In no way it means any harm to your device or your data. In fact, CyberGhost DOES NOT at all spy on your traffic and/or analyze any individual data, but instead offers a unique and strict No-Logs policy to keep your data private, no matter which device or server you use or in which country a server is located.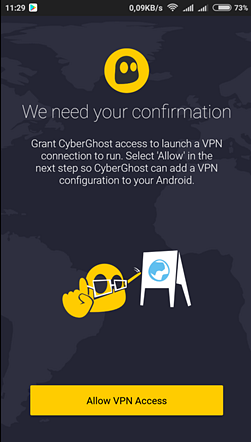 Tap on 'Allow VPN Access' 'Accept' and in the next screen tap on 'OK'.